Top
Holiday Film Programs
Celebrate the season of cheer with these films about warmth, family and the magic of Christmas! Programs for Pre-K & K and grades 1-8.
All films are official selections from the Chicago International Children's Film Festival, and all programs include an introduction and post-screening discussion led by one of our trained media educators. Curriculum aligned with Illinois State Board of Education Learning Standards is also provided to teachers prior to the day of screening.
Flexible scheduling throughout the day - come to us or let us come to you! For details about screenings at Facets Multi-Media, click here. For details about screenings at your location, click here. For more information, contact Doug Newton at fldtrips@facets.org or (773) 281-9075 ext. 3009.
Programs Available: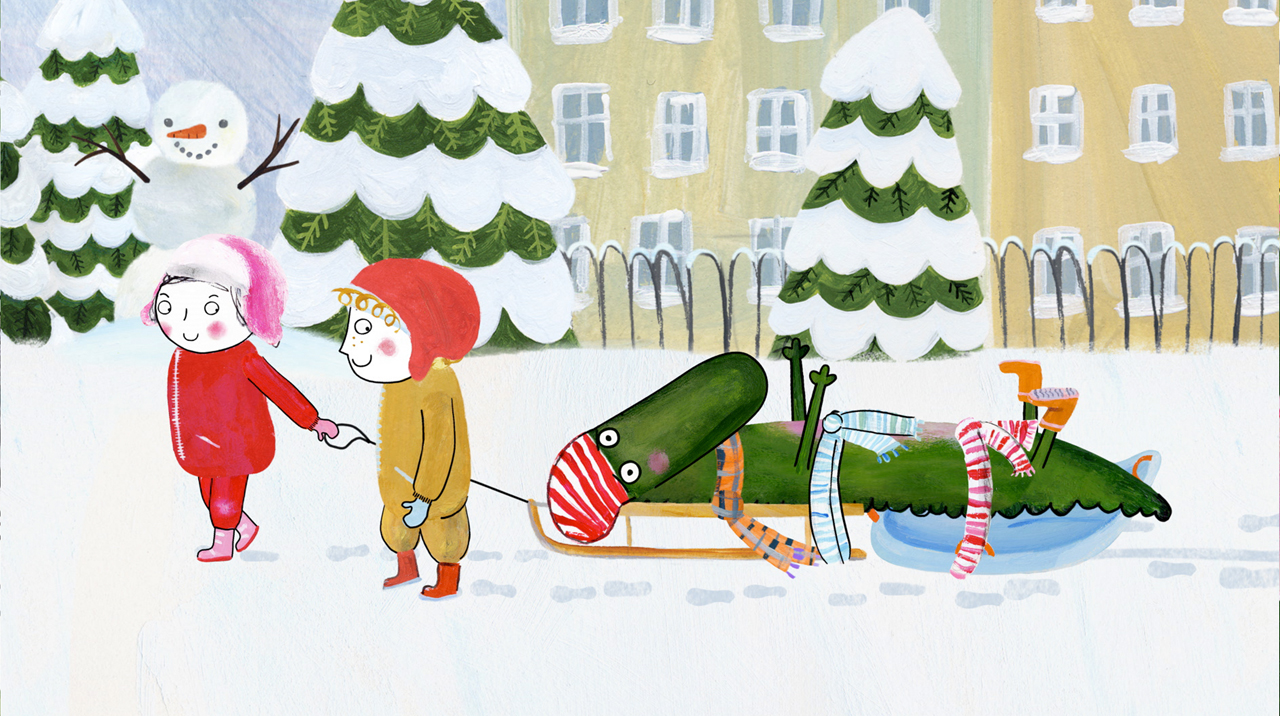 Creature Comfort
Kindergarten - 2nd Grade (Ages 5-8)
Subtitles read aloud for all world language shorts
63-minute program includes media education
Click here for print-friendly PDF
Alien for Christmas (USA)
Rita and Crocodile: "Snow" (Denmark)
The Mitten (France/Belgium)
Spot and Splodge: New Year's Disco Party (Sweden)
Morningbird and Murmelton on Winter Holiday (Norway)
Third & Bird: A Very Squooky Christmas" (USA)
It's winter and the holidays and time to get outside with friends. Can Rita and Crocodile enjoy sledding and ski-ing together? Since Morningbird and Murmelton already live in the freezer and compete for who's best in winter sports, what happens then when they turn the dial down a notch – or two? The furry creatures find refuge in an abandoned wooly mitten, but how can they all fit in? Looking for the right outfit, busting the cool moves are all part of the plan to celebrate, with chums Spot and Splodge. In the last film, interspecial friendship is the name of the game when the bird buddies help a lost mouse get home for the holidays.
From Time to Time

Grades 5+ (Ages 10+)
Screened in English
110-minute program includes media education
Click here for print-friendly PDF
2009 Best of Fest Award Winner!
With WWII coming to a close, and his father still missing in battle, Tolly is sent to the English countryside to live with his grandmother in their imposing ancestral home. Little does he know, the house is filled with ancient secrets just waiting to be explored. While the family arranges for Christmas, Tolly looks to solve the many mysteries hidden in the manor in this supernatural journey of friendship and self-discovery. Lose yourself in this fantastic film which boasts a powerhouse cast including Maggie Smith (Harry Potter and the Deathly Hallows), Timothy Spall (Harry Potter and the Deathly Hallows), Dominic West (The Wire, The Hour), and Hugh Bonneville (PBS' Downtown Abbey). Written and directed by Emmy and Oscar award-winner Julian Fellowes.
Holiday Trimmings
Grades 7+ - High School (Ages 13+)
World language shorts will be subtitled in English.
85-minute program includes media education
Click here for print-friendly PDF
Mo Can Tie a Bow (Germany)
Boris the Rat Dresses Warmly (Finland)
Me and My Mouton (Canada/Norway)
Squirrel and Swallow (Netherlands)
The Marathon Diary (Norway)
A Town Called Panic - The Christmas Log (France/Belgium)
Christmas is just around the corner in this village of toys, but the unruly and impulsive plasticine duo, Cowboy and Indian, have just ruined Horse's Christmas cake and jeopardized their chance of receiving any presents! Join the hapless pair for a series of adventures as they attempt to correct their mistakes. Horse certainly has his hands full with these two – or should we say "hooves"!